To be a star football player, you have to have star moves - particularly when it comes to goal celebrations.
Looks like Tottenham Hotspur player Dele Alli got the message!
His new signature goal celebration has got everyone talking because of how difficult it is to copy.
The Spurs midfielder holds his thumb and finger to his eye, with his hand resting on his forehead - sounds simple, right?
Well, just take a look at the clip above or TRY IT YOURSELF and learn how to do the Dele Alli goal celebration.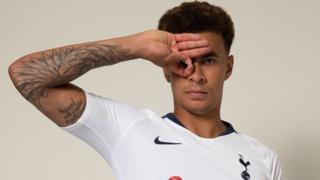 @SpursOfficial
Alli has been showing the move to loads of his Tottenham Hotspur teammates and they are struggling to figure out how he does it.
Thankfully, Manchester United stars Jesse Lingard and Angel Gomes have got it sussed.
Angel even claims that Alli's new move was copied from Lingard himself. Drama!
Can you do this tricky move like Dele Alli? Let us know in the comments below.