It might not have been sung by anyone as famous as Ariana Grande, Drake or Calvin Harris.
But that hasn't stopped children's song Baby Shark from joining hits from these artists in the UK Top 40.
The catchy tune has so far managed to rack up more than 1.6 billion views on YouTube.
These views, and people listening on streaming services, has this week pushed the song into the charts.
Baby Shark has entered the UK Official Charts at number 37 - just above This Is Me by Keala Settle and I Like It by Cardi B.
Aside from the song's catchy lyrics and funky dance moves, how the children's song Baby Shark managed to get so popular is certainly a puzzler.
Here at Newsround HQ we've been asking: Who is baby shark? Where did the song come from? And why has it gone viral?
How did a song about a baby shark go viral?
Baby Shark is a song which is thought to have been around for a long time, before a version of it was produced by a South Korean company called Pinkfong!.
It was Pinkfong!'s version that launched the viral craze, which started in Southeast Asia.
Its catchy lyrics and fun dance moves made it popular with children and adults alike.
However, Pinkfong! believe that a lot of their success came from popular Korean bands like Red Velvet, Girls' Generation and Black Pink.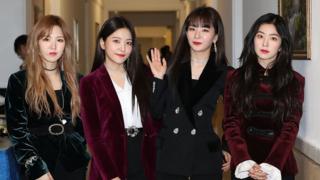 Getty Images
These K-pop groups started doing their own performances of it at their concerts.
In August 2017, the Baby Shark Challenge - where people filmed themselves doing the Baby Shark dance moves - went viral, with #babysharkchallenge trending on Twitter.
Since then the song has taken off around the world - racking up over a billion views on YouTube.
Could this be the next Gangnam Style? Let us know in the comments!