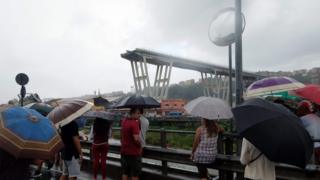 AFP
Rescuers are carrying on their work after a major motorway bridge in the Italian city of Genoa collapsed.
More than 30 vehicles crashed to the ground when the suspension bridge failed during a storm on Tuesday.
Hundreds of firefighters from across Italy are taking part in the rescue operation, using sniffer dogs and climbing gear.
The cause of the bridge collapse, which killed 43 people, is not known yet.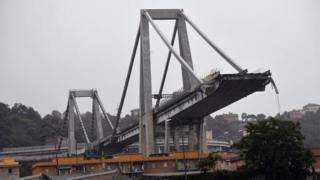 EPA
Italian Prime Minister Giuseppe Conte has announced a 12-month state of emergency in the Liguria region, where the bridge collapsed.
He also said he would make around £4.5m available to help the area.
More than 400 people have been evacuated amid fears other parts of the bridge might fall.
The bridge, which was built in the 1960s, is an important route for moving goods from local ports, and also serves the Italian Riviera and southern coast of France.