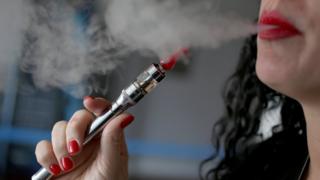 Getty Images
Vaping is seen by many people as an alternative to smoking.
Special e-cigarettes - also known as vapes - heat liquid nicotine to make an inhalable vapour.
Public Health England says vaping is much less harmful than smoking and can be used as an aid to giving up cigarettes.
But there has been a big debate about the smoking alternative.
One study suggests that vaping can damage important cells that protect our body.
While another report, by the science and technology MPs' committee, want to see rules around e-cigarettes relaxed so they can be more widely used and accepted in society.
They say vaping is much less harmful than normal cigarettes and e-cigarettes should be made available on prescription to help more people quit smoking.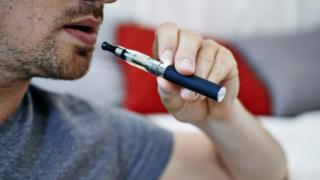 Getty Images
E-cigarettes allow people to breathe in nicotine in a vapour rather than using cigarettes to smoke. Using an e-cigarette is known as vaping.
These special e-cigarettes don't produce tar or carbon dioxide, which are harmful to a person's lungs.
They work by heating a liquid that contains a mixture of nicotine, additives and flavouring.
Users can choose whether to use a liquid that contains nicotine.
E-cigarettes are regularly used by ex-smokers to help them quit.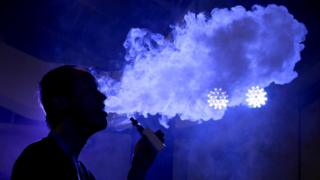 Reuters
The NHS says that e-cigarettes aren't "completely risk free" but "carry a small fraction of the risk of cigarettes".
Public Health England also published a report on e-cigarettes in February.
It found that there was "overwhelming evidence" that they were safer than smoking and said they should be available on prescription.
However, a new study has questioned these claims suggesting e-cigarettes may be more harmful than previously thought.
The research from the University of Birmingham found that vaping can damage important cells in our immune system, which helps the body fight viruses and bacteria.
It also said that some of the effects from vaping were similar to those seen in regular smokers and people with chronic lung disease.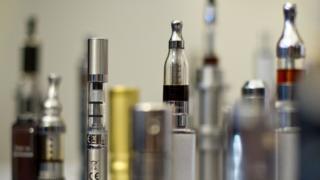 Getty Images
What are the rules for e-cigarettes?
The UK tightly controls how e-cigarettes are sold and advertised.
They can not be sold to under-18s and adults cannot buy them for under-18s.
They also can't be advertised in newspapers, online or on radio and television.
The Government also places strict limits on how e-cigarettes are packaged and what is on their labels.
They can be purchased from special vape shops, pharmacies and other retail outlets but they're not currently available from the NHS.