Reuters
There has been an attack outside the Houses of Parliament in Westminster, London.
A car crashed into security barriers shortly after 7.30am on Tuesday morning.
Armed police officers were seen surrounding the vehicle before a man was arrested on suspicion of terrorism offences.
Cyclists were hit in the crash and London Ambulance Service said it had taken two people to hospital but no-one was seriously hurt.
"Given that this appears to be a deliberate act, the method and this being an iconic site, we are treating it as a terrorist incident" said Neil Basu from the Metropolitan Police.
He added there was "no intelligence at this time of further danger" to London or the UK as a whole.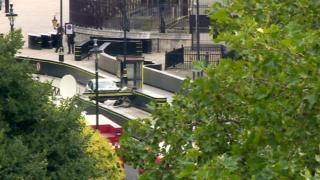 No one else was in the car and no weapons have been found so far.
British Transport Police said it was increasing patrols in England, Scotland and Wales and that its officers would be "highly visible on trains and at stations".
Prime Minister Theresa May said: "My thoughts are with those injured in the incident in Westminster and my thanks to the emergency services for their immediate and courageous response."
The Houses of Parliament are surrounded with security barriers of steel and concrete.
The measures were brought in after the Westminster Bridge attack in March 2017, which killed four people.