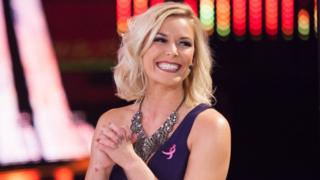 WWE.com
WWE have announced Renee Young will become the first woman to commentate on an entire episode of Monday Night Raw.
Young will appear alongside regular commentators Corey Graves and Michael Cole for WWE's flagship television programme on 13 August, with Jonathan Coachman away for the week.
Although women have commentated on single matches in the past, this is the first time in the 25-year history of Monday Night Raw a woman will provide commentary for the full three-hour broadcast.
"I'm so excited to have this opportunity," Young told the WWE website.
"This means a lot to me - to be able to open the doors for more women to be able to get this ball rolling, get our voices out there and have us finally be heard."
The announcement has been welcomed online, with Raw's on-screen commissioner and WWE Chief Brand Officer Stephanie McMahon saying Young "was going to kill it!".
Young has worked for WWE since October 2012 as a presenter and interviewer.