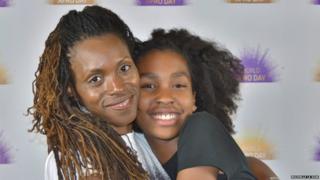 Michelle Le Don
World Afro Day takes place on 15 September.
It's a day where people are encouraged to celebrate kinky, coiled or curly afro textured hair and to learn more about it.
Michelle De Leon is the founder of World Afro Day and believes that there are not enough examples of natural afro textured hair being celebrated in adverts, movies and even music.
She wanted her daughter and other children around the world to grow up seeing more examples of people with hair like their own and for people without afro hair to understand more about it.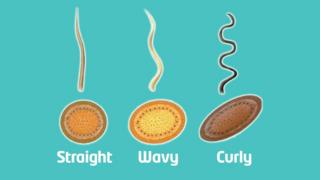 The aim of World Afro Day is to give people with afro hair the confidence to wear it the way they like so that they don't feel pressure to straighten it.
One person who feels strongly about this is former pop star and TV presenter Jamelia.
There are many different ways to wear natural afro hair that can help protect it.
Cornrows, braids, and weaves are know as protective styles and they help to tuck the hair away to protect it from breakage while it grows.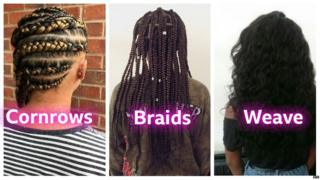 JT2
Cornrows are an ancient African tradition that involves plaiting the hair very close to the scalp. This can sometimes look like rows of corn, which is how cornrows got their name.
Braids often involve plaiting hair made of acrylic and other materials into the hair, while weaves involve first cornrowing the hair, then sewing human or artificial hair on to the plaits.
We've been finding out how other kids feel about their hair.
Wigs, weaves, relaxers
You might wonder how someone with afro hair gets it to look like this.
It may be any one of these things:
Straightening the hair with a straightener,

Wearing a wig, or

A process called relaxing/perming.
Using straighteners and wearing wigs are pretty easy to understand. But what is 'relaxing/perming'?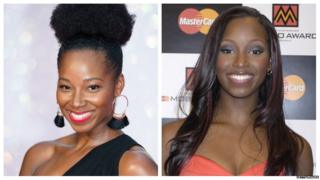 Getty Images
That's where chemicals are applied to the hair to make it straight. But this can sometimes be painful process, especially if not done correctly.
Jamelia has had all kinds of different hairstyles and she believes the way that anyone styles their hair is a personal choice and no-one should feel pressured to style their hair in a particular way to fit in.