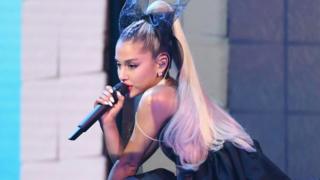 Getty Images
Ariana Grande has revealed she's the latest singer to join TV host James Corden for his Carpool Karaoke.
His show involves driving around in his car, usually in Los Angeles, as he interviews and sings along with a celeb.
Ariana announced on Instagram that she'd appear on the programme on 15 August.
It wasn't straight forward though with the singer injuring herself during filming.
Don't worry she's ok - she just injured her hand (you can see the bandage in her photo below).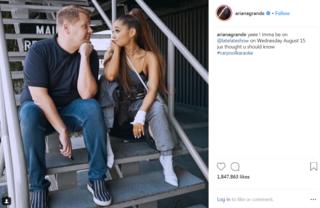 Ariana Grande/Instagram
But it looks like it was worth it, Peter Rabbit star James Corden said Ariana's appearance "might be one of my favourite ever!".
Lots of other celebrities have done the show including Ed Sheeran, Adele and Justin Bieber.