Last month Cadbury, Chewits and Squashies sweets became the first companies to have online adverts banned under new rules targeting junk food ads for children.
Now giants KFC and Kellogg's have also been told to remove adverts which promoted junk food to children, by the UK's advertising watchdog.
There are rules companies have to stick to when they're advertising their products and the Advertising Standards Authority (ASA) make sure adverts shown online, on TV, or on posters or billboards aren't breaking these rules.
It says KFC and Kellogg broke strict rules on advertising high fat, sugar or salt products to children.
The ASA started investigating after members the public complained about the adverts.
It found Kellogg's promoted a Coco Pops product, during a Mr Bean cartoon, likely to have been seen by children.
It also ruled KFC had advertised a Mars Krushems drink on a phone box outside a school.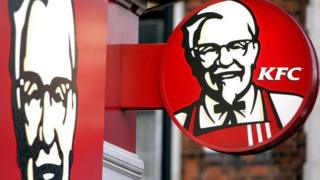 PA Wire
New rules for children's advertising online came into force last July, adding to rules already in place for TV ads.
They said that ads for food and soft drinks that are high in fat, salt or sugar must not be directed at people under 16.
This means that ads that promote these unhealthy products must not appear in 'children's media' (where under-16s are the main target audience) or other media where under-16s make up more than a quarter of the audience.
There are also rules to stop companies doing special deals or promotions on high fat, salt or sugar products that directly target pre-school or primary school children (under-12s).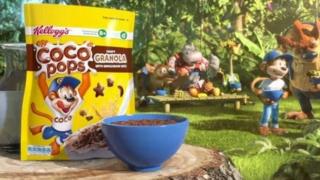 Kellogg's
How did these adverts break the rules?
The issue with KFC's ad was that it was displayed close to the entrance to a primary school - and so children under the age of 16 made up a much higher number of the ad's audience.
The ASA said it was highly likely those younger children made up a lot more than a quarter of the audience of the ad, and that it therefore broke the rules.
For Kellogs, the decision was a bit more complicated.
The ASA said that, although Coco Pops Granola being advertised was not a high fat, sugar or salt product, the Coco Pops branding would make people think of the original Coco Pops cereal.
What do KFC and Kellogg's say about it?
KFC said the ad being placed close to a school was a simple human error and it had taken the advert down quickly once it had been alerted.
Kellogg's said it was disappointed, as it had only meant to promote the healthier Coco Pops Granola product, rather than the original version.
The company says it can now advertise on children's TV because they've reduced the sugar in the original coco pops cereal by 40%.
Two other ads by McDonald's, which had also been complained about, were found not to have broken rules.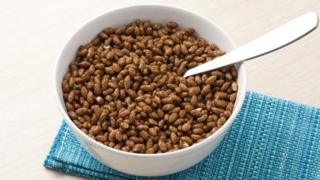 Getty Images