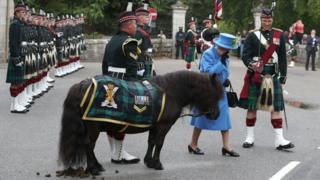 Andrew Milligan/PA Wire
What would you do if you were stood in front of the Queen but you really needed the loo? It's a right royal poo-dicament!
But if you're a Shetland pony you wouldn't think twice about it, would you?
You'd just poo...Oh how embarassing!
In this picture Her Majesty looks like she's holding her nose probably to try and avoid the smell.
But she's had horses (and corgis) for most of her life, we're sure it's not the first time it's happened.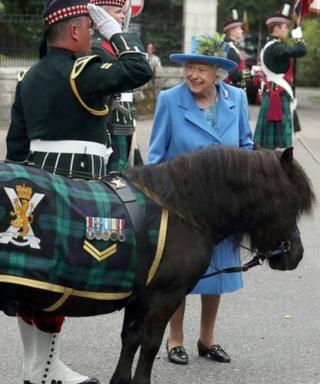 Andrew Milligan/PA Wire
The funny but smelly incident happened near the gates of Balmoral Castle in Scotland with lots of crowds around.
But at least it didn't happen on live TV for everyone to see!
Presenters and guests on daytime television show This Morning were left in hysterics last summer after a naughty horse called Molly decided to do a poo on the carpet - live on air!
Presenter Holly Willoughby said it was her "favourite thing she'd ever seen".
It wouldn't have happened on Newsround - though we did have one fluffy guest who came into the studio for a live interview, and things didn't quite go to plan.
Arthur used to be a stray in South America, and crossed the Amazon river to follow Swedish explorers who befriended him.
His new owner had written a book all about Arthur's amazing journey, and came onto Newsround to tell us all about it.
But Arthur was much more keen in doing some exploring - this time in the Newsround studio - than sitting quietly on the sofa.
Have your pets anything to embarrass you? Let us know. The funnier the better!