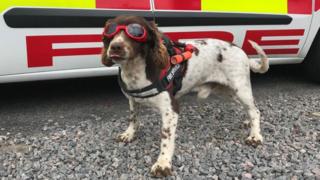 Scottish Fire and Rescue Service
How many dogs do you know with their own social media account?
Well meet Diesel.
He's probably one of the coolest, or should we say hottest, dogs in the UK.
The Springer Spaniel works for the Scottish Fire and Rescue service.
He's helped out all over the world using his super search and rescue skills, including after a major earthquake in Nepal.
Now he has his own Twitter account so he can tell everyone about all the paw-some work he does.
Diesel is used to search wide, open spaces and can also help police look for missing people.
And he's not the only animal who helps out us humans!
When Diesel's done his job he's rewarded with his favourite tennis ball!
To protect him whilst he's working, his uniform includes special booties, a torch, bell and of course his very own goggles, sorry doggles.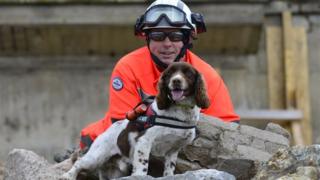 Scottish Fire and Rescue Service
Deputy Chief Officer Iain Bushell said:
"There is no doubt whatsoever that Diesel is the hottest looking search and rescue dog in Scotland with his doggles and his booties.
"It is clear that Diesel is held in the very highest regard not only by ourselves but by the Scottish public - he is indeed a very good boy. I am therefore delighted that he is being given a platform to outline his fantastic work, key safety advice and even a picture with his beloved play ball."
Go Diesel!