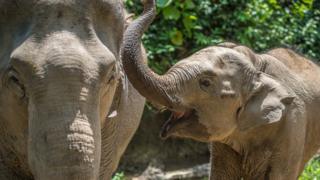 Getty Images
The 12 August is World Elephant Day.
The special day was created to encourage people to learn more about these magnificent creatures, and to promote their protection in the wild.
More than 100 elephant conservation charities and millions of people worldwide come together every year to raise awareness of these incredible animals.
Here are ten reasons why we at Newsround think they're amazing too! (If you're viewing this page on a mobile, click here to be able to see the videos.)
1. They are more skilled on one side - just like us!
Did you know elephants can be right or left-tusked, just like we can be right or left-handed?
You can usually tell which is their preferred tusk as it will be more worn down than the other one due to being used more.
2. They need hardly any sleep
Researchers have found that African elephants in the wild sleep an average of two hours a day.
They can also regularly go nearly two days without any sleep at all! Imagine what you could do with all those extra hours!
3. Elephants are good listeners
Researchers reckon just by hearing a voice, African elephants can tell men from women, adults from children, and even tell the difference between our languages.
It seems they're less frightened by the voices of women and children, than they are of men - who they think are more likely to be hunters.
4. They're excellent swimmers
Well five-year-old Lily, the water-loving Asian elephant, is at least.
Luckily she's never in danger of forgetting her 'swimming trunk' because it's attached to her face! (Ahem...)
5. Elephants have an amazing sense of smell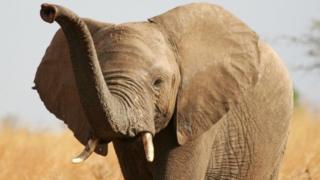 Getty Images
African elephants have a sense of smell that is likely the strongest ever identified in a single species, according to a study by scientists from the University of Tokyo.
Elephants have nearly 2,000 special genes that detect odours in the environment.
6. They're strong and determined
Sky, a baby elephant in Thailand, lost part of her leg in a trap laid by villagers to protect their crops.
But with the help of these rescuers and a special swimming pool, she learned to walk again.
Sometimes they do need a bit of a helping hand though - like this baby in Sri Lanka who managed to get himself stuck in a pretty tight spot!
Thankfully, he was rescued from the drain, and was given treatment for his injured foot.
7. Elephants like to do things at their own speed
Elephants can move pretty quickly when they want too, running as fast as 15 miles per hour.
But they also don't like to be rushed.
Zookeepers had a long wait for this little elephant calf at Chester Zoo when he was born three months later than expected.
His mum probably wasn't too impressed, given she'd already been carrying him for 22 months by the time he was meant to have come out!
8. Elephants sometimes remind us of our favourite celebs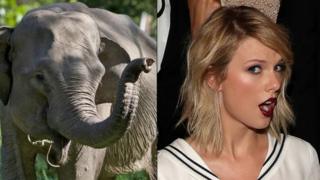 Getty Images
Elephants might not be able to jump, but we reckon they could 'shake shake shake' just as well as Taylor can when the haters come knocking.
Taylor's not the only one with a elephant lookalike either - Zac Efron, Justin Bieber, and even Hacker do too!
9. They use their poo as satnav!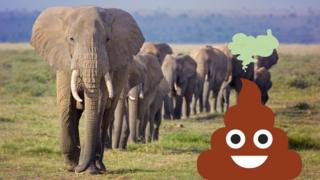 Getty Images
Elephants use other elephants' droppings as a way to keep on track when they're on their travels.
African savannah elephants, particularly those travelling alone, follow the scent of dung and urine left by others to make sure they're travelling in the right direction.
10. Most of all, Newsround loves elephants because you guys do!
It's not hard to be a fan of these gentle giants with their long trunks and sense of fun.
Campaigners want World Elephant Day to spread the message of how important it is that they're protected from poachers who kill them for their tusks, or hunters who want to show off their skills.
Do you love elephants too? Why do you think they're amazing animals? Let us know in the comments below!