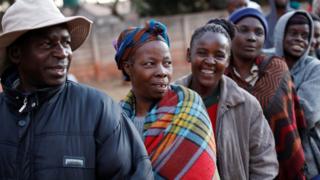 Reuters
Important elections took place in Zimbabwe in southern Africa earlier this week.
It was a significant moment as this was the first presidential election that a man called Robert Mugabe wasn't in the running for since the country became independent.
The former president Mr Mugabe announced he was stepping down as leader in November 2017 at the age of 93, after the army took control of the country on 22 November.
He had been in power in Zimbabwe for 37 years - ever since it became independent in 1980.
These are the first elections to take place since this happened.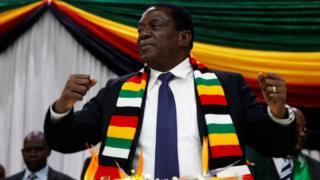 Reuters
On Friday morning Emmerson Mnangagwa was announced as the winner of Zimbabwe's presidential election.
He is is in charge of the Zanu-PF party and had been filling the president's role since Robert Mugabe stepped down. Before that he used to be the vice-president.
The president said on Twitter he was "humbled" and called the result "a new beginning".
The electoral commission confirmed he had received 50.8% of votes, compared to 44.3% for Nelson Chamisa, the leader of Zimbabwe's other main political party.
But Mr Chamisa and his supporters have rejected this result and insist he is the winner.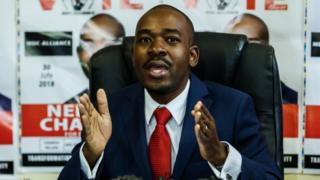 AFP/Getty Images
His party MDC Alliance said they had not been able to check the result for themselves and want to go to court to challenge the result.
Mr Chamisa is almost half the age of President Mnangagwa.
This election was an important moment for the country, that had the same leader for 37 years.
In order to understand the significance of this vote, we need to look back at the recent history of the country.
What is the story of modern Zimbabwe?
The country that is now Zimbabwe was taken over by Britain in the 1880s and named Southern Rhodesia.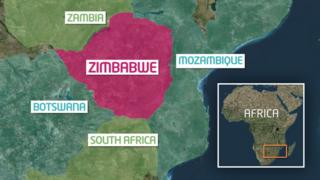 Although far fewer white people lived there than black people, the country was dominated by white people who ran everything. In the 1960s and 1970s, there was a lot of fighting as they tried to keep power.
Groups representing the black majority won a war in 1980 and changed the country's name to Zimbabwe.
A man called Robert Mugabe, who was a key player in Zimbabwe's fight for independence, became the country's first prime minister. He was prime minister until a presidential system was introduced in 1987.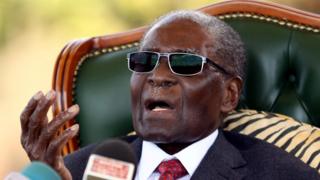 Reuters
Mr Mugabe has been a controversial figure though.
Many people both in Zimbabwe and abroad are very critical of him because of the way he ran the country. They say he was a dictator who completely controlled the country and used violence to get what he wanted.
In the past, he has been accused of fixing elections to make sure he stays in power, and he also had tight control over the media and what people were allowed to say.
But to some, he was a hero because he fought for independence.
His years in charge were marked by economic problems for the country and conflict against those who didn't agree with him.
Since 2000, there have been huge food shortages in Zimbabwe because of rules that Mr Mugabe brought in to give farms back to black people. Not enough food was being produced to feed everybody and bad droughts made the problem worse.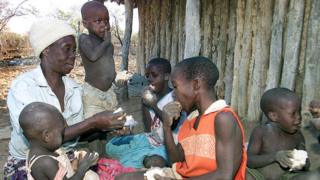 AFP/Getty Images
These tough years left one in five people in Zimbabwe living in extreme poverty.
Many people became angry with the way Robert Mugabe and people around him were running Zimbabwe and treating its people.
He sacked then then vice-president Emmerson Mnangagwa at the start of November 2017, angering army leaders who saw it as an attempt to set up his wife Grace to be the next president. Mr Mugabe said this was "utter nonsense".
On 19 November, Mr Mugabe was removed as the leader of Zimbabwe's ruling Zanu-PF party and ex-vice-president Emmerson Mnangagwa was made president in his place.
What happened during the election?
International help was brought in to make sure that this election ran smoothly.
It is 16 years since the European Union and US observers have been allowed to monitor elections in the country.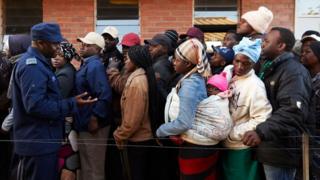 AFP/Getty Images
The opposition in Zimbabwe raised concerns about some aspects of the vote - for example, over how secure the ballot papers were and voters being made to vote a certain way in some rural areas.
But those running the election said it was being run in a lawful way.
While voting was taking place on 30 July, Pumza Fihlani - a BBC News reporter in the country's capital Harare - said: "Officials say the process has smooth and peaceful so far."
It was expected that younger voters would be very important in this election, as almost half of the people registered are under the age of 35.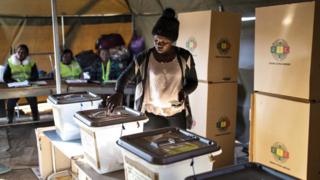 Getty Images
Mr Mugabe said that he would not vote for his successor, Mr Mnangagwa, saying: "I cannot vote for those who tormented me.". He suggested that Mr Chamisa is the only viable candidate.
In response to this, Mr Mnangagwa thinks Mr Mugabe made a deal with the opposition. "We can no longer believe that his intentions are to transform Zimbabwe and rebuild our nation," he said.
Towards the end of the day of voting, Pumza explained: "When the sun sets today, through their votes, Zimbabweans will have done all they could to help steer their country's future."
After the polls closed, Mr Mnangagwa tweeted that Zimbabweans had "voted in the spirit of tolerance, mutual respect and peace".