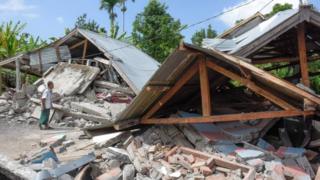 AFP/Getty Images
A second earthquake in the space of a week has struck an island in Indonesia.
A number of tourist resorts on Lombok and the nearby Gili islands have been evacuated.
Hundreds of people were injured by the 6.9 magnitude quake, around 130 people have died.
Thousands of buildings have collapsed, and at least 20,000 people have been left homeless.
The quake was so strong it was felt on the neighbouring island of Bali.
It's happened just days after another powerful tremor there on Sunday 29 July.
The first was 6.4 magnitude and again hit the central island of Lombok just before 07:00 local time (00:00 UK time).
Officials said at least 17 people were killed and more than 160 people injured.
Indonesia is a country in south-east Asia, while the island of Lombok is somewhere where lots of people go on holiday.
Many buildings on the island are made from wood and bamboo.
Thousands of homes have also been damaged by the earthquakes and aftershocks.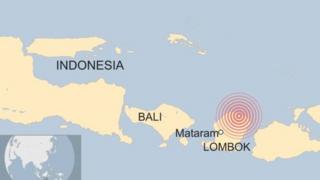 Sutopo Purwo Nugroho, a spokesman for the country's disaster agency, said most people were injured after the first earthquake when they were hit by debris and falling blocks of concrete.
He said: "The main focus now is evacuation and rescue. Some of the injured are still being treated at clinics."
The US Geological Survey said the epicentre of the first earthquake was 50km (31 miles) north-east of the city of Mataram, in northern Lombok.
It was followed by more than 60 smaller earthquakes, with the largest recorded at a magnitude of 5.7, before the second big earthquake on Sunday 5 August.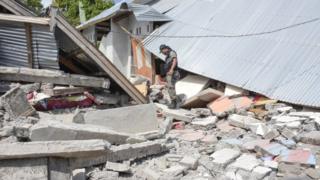 EPA
In some areas landslides have cut off roads, and the water supply and electricity to houses.
Indonesia often experiences earthquakes because it lies on an area called the Ring of Fire - where earthquakes and volcanic eruptions are frequent.
More than half of the world's active volcanoes above sea level are part of the ring.
In 2016 a magnitude 6.5 quake struck off the north-east coast of Sumatra island, killing dozens of people and more than 40,000 having to leave their homes.