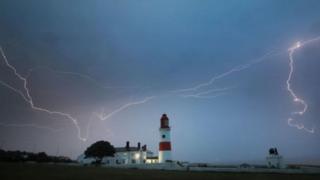 PA
The UK has seen heavy rain and travel disruption, as the heatwave appeared to come to an end.
Saturday was the first day since 23 June that nowhere in the UK had temperatures above 25C.
BBC Weather forecaster Matt Taylor said there had been a "drastic change" from the heatwave to cooler, wetter and windier conditions.
He said the cooler conditions would continue over the next few days, but added that it "doesn't mean that summer is done with us yet".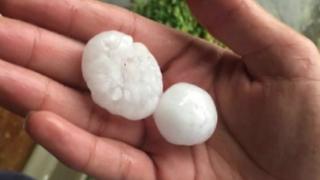 UGC
Forecasters predict that the hot weather will continue next week after the stormy weekend.
More heavy rain and 50mph gusts are forecast for the UK, and a yellow weather warning for southern England and Wales is in place until 3 o'clock on Sunday.
The Met Office - who look at the UK's weather - say torrential rain could cause a threat to life, power cuts and sudden flooding.
It's upgraded its weather warning to amber in Northern Ireland on Saturday.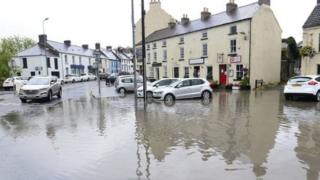 PACEMAKER
On Friday night the UK faced heavy rain and there were massive thunderstorms in many areas, including York, Norfolk, and London.
In Northern Ireland more than a month's worth of rain fell within a few hours on Saturday
Belfast saw 99mm of rain and homes were flooded in County Antrim, with a big cleanup operation continuing on Sunday.
The Met Office says flooding is possible in the Brecon Beacons and Dartmoor, the and gusts of up to 50mph are expected on exposed coasts and hills.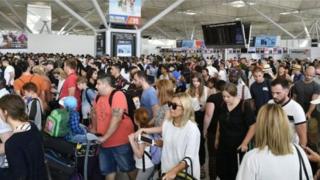 EPA
It's estimated that up to 4,000 people have been hit with flight cancellations and delays so far.
Flights from Edinburgh, Birmingham, Luton and Stansted were delayed on Saturday and some cancelled after temporary restrictions were put in place during thunderstorms across Europe on Friday.
Passengers travelling to and from Stansted airport, and with airline Ryanair, are thought to have been worst hit.
Some passengers flying back to Gatwick Airport from Spain on Saturday were 20 hours behind schedule.
Ryanair apologised and blamed the disruption on thunderstorms and air traffic control staff shortages.
Gatwick and Luton airports tweeted that they are experiencing delays and possible cancellations because of adverse weather across Europe, and Heathrow said it had minor delays.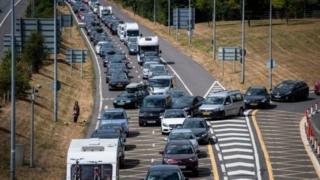 Getty Images
Travellers continued to face delays at Cross-Channel Eurotunnel and ferry terminals in Dover.
On Friday passengers on the Eurotunnel faced delays of up to four hours after the heat caused air conditioning problems on the cross-Channel trains.
Eurotunnel said it would now be bring back the carriages removed from service during the hot weather on Friday.
Trains have also been affected. The main East Coast rail line has been disrupted, while lightning strikes damaged signalling equipment in the North East.
Some Edinburgh to London Kings Cross trains were cancelled due to the damaged signalling system between Morpeth and Berwick in Northumberland.
On the roads, motorists have been warned of lightning, flash flooding and large hailstones.
The conditions meant the rare blood moon on Friday evening was not visible to many across the UK and Ireland.
There are 28 flood alerts in place affecting south-east England, the Midlands and the North.