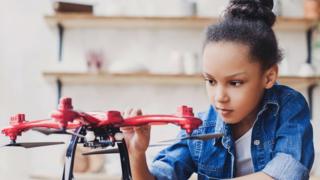 Getty Images
Children could be banned from owning drones weighing more than 250g.
They would only be allowed to fly devices heavier than that if they were owned and registered by an adult.
It's part of government proposals designed to crack down on people using drones to snoop on others and near-crashes with bigger aircraft.
There are also plans to give police the power to confiscate drones and issue on-the-spot fines to irresponsible pilots.
The Association of Remotely Piloted Aircraft Systems has said they are worried about the potential ban.
"We've got to promote the safe and responsible use of drones, but children are the future of the drone world, so it's also important they can have access to drones and use them," said Gavin Wishart.
"What the government should also be looking at is promoting the safe use of drones by bringing in areas where people can fly them safely, as it can be difficult to find areas in the UK because of things like air space restrictions and the number of people around."
If approved, the Drone Bill could become law later this year.