Weather forecasters believe that the UK could be about to face the hottest day of the year so far.
In south-east England, temperatures are expected to reach a whopping 35C.
That would make it the hottest day the UK has had all year.
However, some forecasters believe that the temperature could be even higher, potentially beating the current record of 38.5C!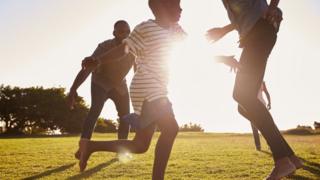 Getty Images
Is all this heat a good thing?
While the hot weather may be making us feel like we're all on holiday, there are some downsides to the heatwave.
Some people can become unwell in the hot weather if they are not able to protect themselves properly in the heat, meaning emergency services might be called out more often.
Wildfires have been a problem in grassy or wooded areas that have dried out in the sun.
The heat has caused roads to melt and train tracks to move, causing some travel problems.
What's the weather like where you are? Let us know in the comments!
How can I stay safe in the heat?
It's really important to stay safe in hot weather - even when the sun is not shining or hidden behind clouds, you need to be protected.
Here are our top tips to stay safe in a heatwave:
Put on a high SPF sunscreen at least half hour before you go outside. Reapply every two hours and after you've been in the water.

Protect your head and yes in the sun - wear a hat and sunglasses.

Drink lots and lots of water to stay hydrated.

Stay out of the sun or in the shade if your outdoors between 11am and 3pm.

If it's too hot to be outside, you can cool off indoors by putting a fan near an open window or taking a lukewarm shower.
Want to find out more? Check out our top tips to stay cool in a heatwave.