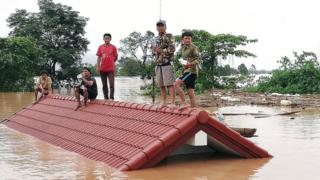 EPA
More than 6,000 people have been left homeless and hundreds are missing after a dam collapsed in Laos, a country in Southeast Asia.
The dam collapsed late on Monday night and sent flash floods through villages in the area, causing lots of devastation.
Pictures showed villagers stranded on the roofs of submerged houses and boats carrying people to safety.
It is thought that the dam released about five billion cubic metres (five trillion litres) of water when it collapsed.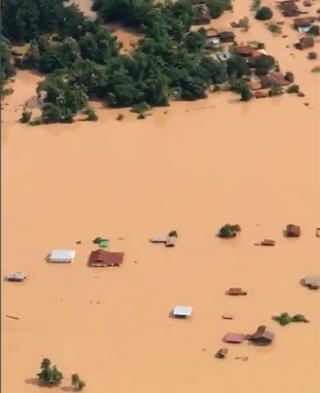 AFP/Getty Images
The dam was a hydroelectric dam, being built to provide energy.
It is not yet known how many people have died in the disaster.
How did the dam collapse?
Investigations are still under way, but it is thought heavy rainstorms had caused part of the dam to collapse.
Local people have been evacuated, and authorities have appealed for help to provide emergency aid for the victims such as clothing, food, drinking water and medicine.