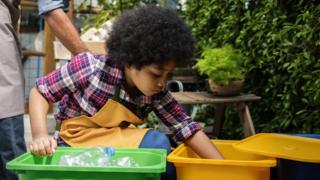 Getty Images
Lots of us try really hard to put plastic, cardboard and bottles into the recycling bins rather than sticking it in with the rest of our rubbish.
So how would you feel if you found out that some of your recycling might actually be ending up in landfill anyway and you might as well not have bothered? Not happy, we'd imagine!
Well, a UK government body called the National Audit Office (NAO) - whose job it is to check up on what government departments are doing - has said that over half of packaging reported as being recycled is actually being sent abroad to be processed.
That means the government doesn't really know whether these items are getting turned into new products, being buried in landfill or being burned - and that there's nothing to prove that packaging sent for recycling is even getting recycled.
The UK's system for recycling gives the impression that it is doing really well, having increased recycling from under a third (31%) in 1998 to nearly two-thirds (64%) last year.
These numbers are much higher than the target set by the EU of 55%, which is great news.
But the NAO says these numbers may actually be misleading and that most of the increase in recycling has in fact been due to the UK simply exporting its waste problem. And when it's exported, we can't actually say what's happening to it.
Figures suggest that compared to 2002, the UK is now exporting six times more packaging waste abroad, while the amount being recycled here remains the same.
Amyas Morse, head of the NAO, said the government needs to have a better understanding of what's going on when packaging waste is being shipped abroad.
Environment Secretary Michael Gove has said himself that the UK exports too much of its waste.
But in order to solve this problem, the UK needs to reduce the amount of waste it produces, use resources better and tackle packaging waste.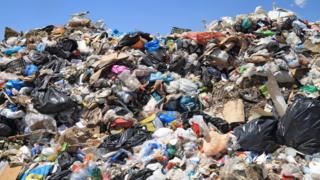 Getty Images
Ms Morse also said the government's way of encouraging firms to recycle - by helping them pay for it - has helped companies meet targets, without actually addressing the problems.
So it seems there's still a long way to go before the UK's recycling system is really doing its job.
A government spokesperson said: "There is much more to do. We don't recycle enough waste and we export too much of it."
They went on to say the government would be setting out what changes it intends to make to the system later this year.