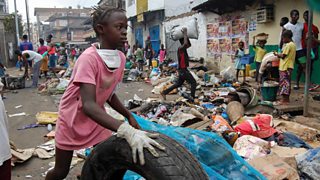 Sierra Leone holds national cleaning day
The locals living in a city in Sierra Leone, Africa, have taken to the streets for a national cleaning day.
A new campaign introduced by the country's president, Julius Maada Bio, has called on citizens in the capital city, Freetown, to clean as much as possible to improve hygiene.
Cleaning days are held on the first Saturday of each month, from 7am to 12 noon.
Watch Ricky explain what's been happening.