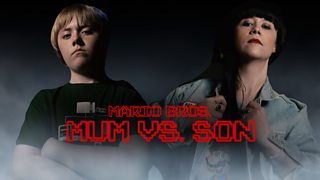 Epic arcade battle to mark Mario's birthday
Thirty-five years ago, the world was introduced to Mario Bros. - a game where two plumbers with moustaches take down enemies in the sewers.
Mario originally featured in Donkey Kong, but in 1983 joined his brother Luigi in the Mario Bros. arcade cabinet game - fighting the Shellcreeper Turtles, Fighter Fireflies and the Sidestepper Crabs that come crawling from the pipes.
Mario is one of the best-selling games of all time and has been developed for platforms, including the NES, Super Nintendo and Wii.
Together, Mario and Luigi have travelled through new kingdoms, facing new enemies in the hope of rescuing characters like Princess Toadstool and Princess Peach.
Noah and his mum, Gemma, come from a Mario-mad family so they've marked his birthday with an arcade battle.
Who wins? Watch and see!
Thanks to the Arcade Club, Bury