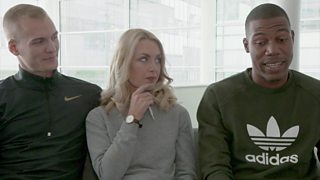 'I think you two would make the perfect kangaroo'
If you put British sprinter Zharnel Hughes and American pole vaulter Sam Hendricks against each other, it'd be the battle of SPEED v JUMPING.
They're both heading to London this weekend to take part in the Muller Anniversary Games.
But as two of the world's best athletes, competing in different sports, is it really fair to pit them against each other?
Maybe not...so let's try something else shall we.
How would Sam do if you asked him to jump over a moving bus? And would Zharnel still come out on top if he had to race against a kangaroo?