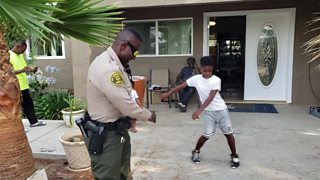 Police v kid: Who won this dance battle?
Some of us look like we were born to floss. Others just don't quite have the co-ordination to pull it off.
But who do you think did better in this epic dance off between a kid and police officer in America?
Watch the video...and decide for yourself.
Is the kid streaks ahead? Or does the police officer's effort make him your champion?
Pictures from Los Angeles County Sheriffs Dept