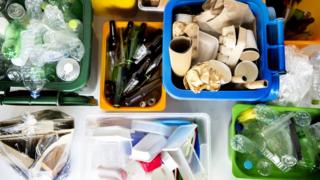 Getty Images
A new survey says up to a third of plastic packaging used in supermarkets is very difficult to recycle, or can't be recycled at all.
Which? - a group which looks at stuff we buy - found 29% of packaging is likely to go to landfill and wants simple recycling labels to be made compulsory.
It found that Lidl had the lowest proportion of easily recyclable packaging - with 71% of its packaging able to be recycled.
But Lidl said the "small sample" used in the report didn't represent the shop's product range. and it estimated that "the vast majority of our packaging is widely recyclable under the industry standard OPRL (On Pack Recycling Labelling) scheme."
Also towards the bottom of the list were Iceland at 73%, Ocado at 74%, and Sainsbury's at 75%.
Morrisons had the best rating with 81% of its packaging recyclable.
The survey looked at 27 own-brand products in 10 big UK supermarkets.
Over the last few months lots of companies, including supermarkets and restaurants, have promised to try and cut down on plastic waste.
Back in April, 40 companies - including Aldi, Asda, Lidl, M&S, Morrisons, Ocado, Sainsbury's, Tesco and Waitrose - all signed up to the UK's Plastic Pact.
This is an agreement to make 100% of plastic packaging ready for recycling or composting by 2025.
What's the problem with recycling labels?
Which? said there were "huge inconsistencies" in how recyclable packaging was labelled.
Some items were not labelled at all, while other recycling labels could only be seen after the food had been unwrapped, which Which? said was 'not helpful'.
Some supermarkets had also labelled packaging as non-recyclable, when the type of plastic could actually be recycled at supermarket collection points.
What products made the difference?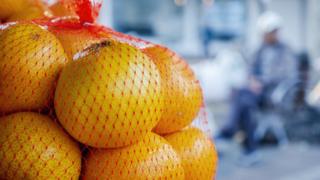 Getty Images
Easy peel oranges: In all supermarkets they came in nets with plastic labels, and could not be recycled.
Apples: The plastic on M&S and Waitrose packaging was labelled as non-recyclable, when the plastic could in fact be recycled at supermarket collection points.
Chocolate cake: Morrisons's used a recyclable plastic box, but Lidl's cake came in mixed packaging - a non-recyclable plastic film on a recyclable box which had a non-recyclable window.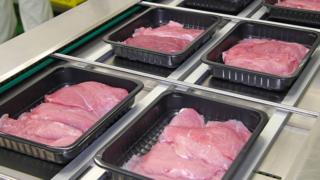 Getty Images
Meat packaging: Morrisons used easy-to-recycle clear plastic trays, but Lidl used hard-to-recycle black plastic.
Ready meal trays: Supermarkets used black plastic which automatic sorting machines find impossible to detect.
Polystyrene pizza bases: These are used by lots of supermarkets and are difficult to recycle. Some supermarkets are replacing them with cardboard.