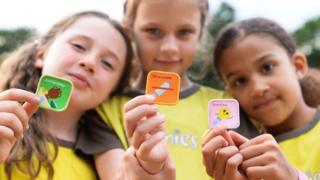 Girlguiding/PA
Lots of you will enjoy being a member of Brownies or Guides - or maybe you were in Rainbows when you were younger.
Well, we've got big news for anyone who's a member of Girlguiding - after 18 months of work, the badges and activities are being given a complete makeover!
It is the biggest overhaul of Brownies and Guides in the organisation's history and over 50,000 girls were involved in deciding what all the new activities and badges would look like.
The new programme will be gradually rolled out over the next year so that by September 2019, all Brownies and Guides will be working towards this new programme.
The entire Girlguiding programme has had a makeover and there are now over 800 new badges and activities for girls aged 5 to 18 to work towards.
Rainbows (before Brownies) and Rangers (after Guides) can earn interest badges too now, so they can join in the fun.
There are also special new skills builder badges which are designed to help girls develop skills as they grow older, from Rainbows, through Brownies and Guides, to Rangers.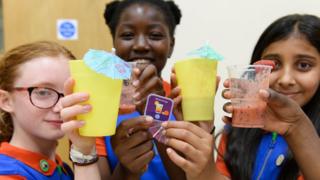 Doug Peters
The world, our interests and the way we all live our lives is constantly changing - so the organisation wanted to update its programme of activities to reflect this and help girls to explore new interests and try things out for the first time, building their skills and confidence as they go.
According to Girlguiding, the new badges and activities "reflect the diversity of girls and modern life in the 21st Century".
Liddy Buswell, a volunteer for the organisation, says: "This is such an exciting time to be part of Girlguiding. Where else would girls have the opportunity to be introduced to such a wide range of topics from tech and STEM, aviation and archaeology, to voting or surviving in the wild?"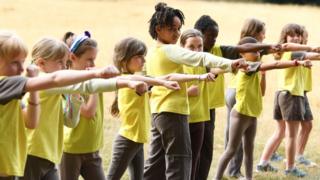 Girlguiding/PA
She goes on to say that the programme is to help girls "discover what it is they want to pursue and don't worry about failing or being judged. It could even lead them to their future career."
How does the new programme work?
All of the new activities and badges are built around six themes for absolutely everyone, no matter what your age. The first three focus on you. The second three focus on connecting with other people and exploring the world around you.
Know myself

Express myself

Be well

Have adventures

Take action

Skills for my future
For each of these themes, there is lots to work towards - interest badges, skills builders, group activities and awards.
Interest badges let you explore something that interests you on your own - whether that's improving knowledge that you already have or trying out something new. In order to be awarded your interest badge, you will need to carry out three challenges.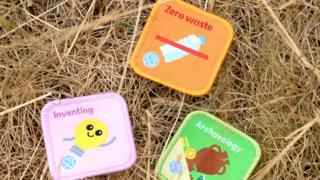 Girlguiding/PA
Skills builder badges are completely new and they are earned by working in a group. You earn different levels of skills builder badges depending which stage of Girlguiding you are at - and the stages get more challenging as you go through.
The organisation explains: "If a girl starts stage 1 in Rainbows, by the time she reaches stage 5 as a Guide she'll have gained some very valuable skills, got a great set of badges and had a lot of fun!"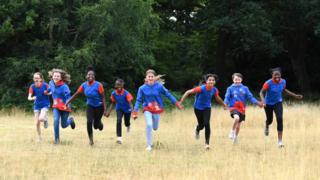 Girlguiding/PA
Once you have earned a certain number of interest and skills builder badges for one particular theme, you can work towards getting your special theme award.
Once you have earned all six theme awards, you can do a final challenge and then get your Brownie or Guide Gold award - which is seriously impressive!
On top of these, there are also new group activities which have been specially designed for your usual weekly get-togethers.
There are also special anniversary badges and you will earn one of these for each year you are a member of Girlguiding - no matter what age you join.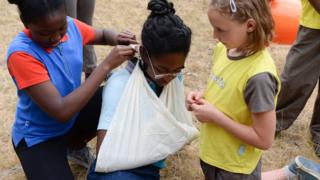 Girlguiding/PA
What are the new badges and activities?
Given that there are over 800 new badges and activities, we really will be here all day if we run through all of them! So we thought we'd give you a flavour of what's on the new line-up for Brownies and Guides.
As a brownie, there are three different interest badges under each theme, which you can work towards on your own. What do you fancy?!
Know myself

- collecting, local history, my rights (three different badges)

Express myself

- baking, painting, performing

Be well

- dancing, grow your own, mindfulness

Have adventures

- archaeology, aviation, space

Take action

- charities, speaking out, zero waste

Skills for my future

- inventing, jobs, languages
You will also work in a group towards getting stage 2 and 3 skills builder badges for each of the following. To pass one stage, you will need to do five activities. These are:
Know myself

- network, reflect (so that's 4 skills builder badges available in total for this theme - stage 2 and 3 for network, and stage 2 and 3 for reflect)

Express myself

- communicate, innovate

Be well

- feel good, first aid

Have adventures

- camp, explore

Take action

- influence, make a change

Skills for my future

- lead, live smart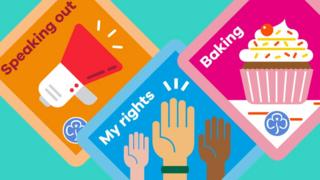 Girlguiding
There are four different interest badges you can work towards as a guide under each theme.
Know myself

- aspirations, human rights, guiding history, personal brand

Express myself

- confectionary, media critic, photography, vlogging

Be well

- fitness, meditation, mixology, natural remedies

Have adventures

- backwoods cooking, geocaching, navigator, whittling

Take action

- be prepared, campaigning, conscious consumer, craftivism

Skills for my future

- fixing, investigating, saver, upcycling
You will also work in a group towards getting stage 4 and 5 skills builder badges, building on from the badges listed above which you may have already earned as a Brownie.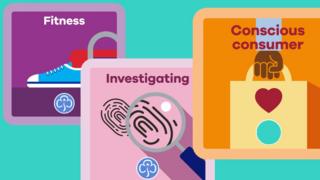 Girlguiding
You should choose which badges and activities you want to do based on two things:
1. What you're already interested in:
What are you passionate about?

What do you enjoy doing?

Is there something you would like to get better at?
2. New skills or knowledge you would like to develop:
Is there a hobby or interest you've always wanted to try for the first time?

Have you recently found out about something you'd like to explore more or know more about?
Have a chat to one of your leaders if you're not sure what you might like to work towards and they can help you to decide.
Taking our hobby quiz might also help to give you some ideas too!
Newsround's Ayshah used to be a Brownie and then a Guide when she was younger, so we asked her which of the new badges she would be interested in working towards!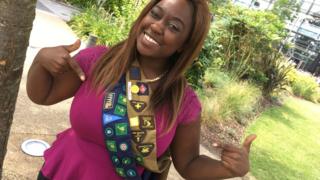 "If I was starting Brownies now, I'd definitely want to do the baking interest badge because I absolutely love food - especially cakes!" she says.
"I'd be interested in doing speaking out, because I think it's important to be able to say what you think and use your voice in positive ways.
"I also love the look of the 'my rights' interest badge, because people have fought for our rights for so many years, so I'd love to learn more about that and what I can do to promote equal rights for people all over the world.
"The Guide badges look great too. If I had to choose, I'd probably do investigating - I mean, I am a journalist after all!
"I think I'd really enjoy working towards the fitness badge, as I love to do netball and also go to the gym to keep healthy.
"I also think the conscious consumer badge is a really important one, as it would help me to think about how the choices I make in life can help others and affect the world around me, which is something we should all be considering."