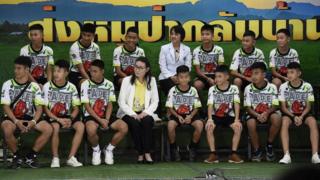 Getty Images
The twelve boys and their football coach who were trapped for more than two weeks in a flooded cave in Thailand have been released from hospital.
The Wild Boars junior football team members arrived at a news conference smiling and playing with footballs.
One of the boys, 14-year-old Adul Sam-on, described the "moment of miracle" when two British divers found them.
"I was stunned because they were English so I said 'hello'," he said.
After the news conference, the boys will go back to their homes and families, officials say.
The group had been in hospital since last week, when they were pulled from the underground cave complex in a three-day rescue mission.
How did the boys get stuck?
The 12 boys - aged between 11 and 16 - and their coach are part of a football team called Moo Pa, which means Wild Boar.
It is believed they entered the cave on 23 June when it was dry and sudden heavy rains blocked the exit.
During rainy seasons in Thailand, the waters in the caves can rise very high.
Rushing water and mud then trapped the boys inside.
The rescue mission began on Sunday 8 July and involved 90 expert divers - 40 from Thailand and 50 from other countries.
These divers had been working together to help guide the boys through the long, difficult passages of the cave. Some areas are very narrow.
The boys left the cave by walking, climbing and swimming through the different passages.
While swimming, each boy was helped by two divers as they followed a rope called a dive line, which helped lead the group out of the cave.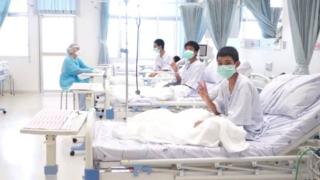 Reuters
The boys wore special diving masks that cover their whole face as this helped them breathe more easily from their oxygen tanks.
Their large, heavy oxygen tanks were also being carried for them by the rescue divers.
The rescue operation was started before more rain arrived, which would have made it harder to rescue the boys.
All 13 were transferred to a hospital in Chiang Rai where they have received medical and psychological help. They are all said to be recovering well.