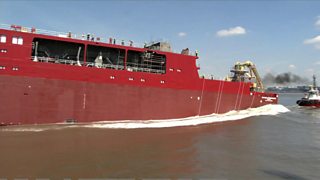 Watch RRS David Attenborough launch
We all know Sir David Attenborough, the legendary naturalist and TV presenter who brought shows like Blue Planet to our screens.
But did you know that there's another Sir David Attenborough - and this one's a boat?!
The RRS Sir David Attenborough is a brand new polar research ship launched on Saturday 14 July.
It's been designed by the British Antarctic Survey, a group of scientists who specialise in polar exploration.