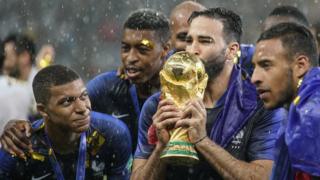 Getty Images
It's been an unforgettable few weeks for footie fans, especially England supporters.
The men's team made it to their first World Cup semi-final in 28 years.
But the big news is that France has won the Fifa World Cup for the second time ever by beating Croatia 4-2 in Moscow.
The event that everyone is talking about is Kylian Mbappe's fourth goal for France.
The 19 year old won the Tournament's best young player award and became only the second teenager to score in a World Cup final after Pele in 1958.
But for England it's time to come home and Newsround has been speaking to kids around the country about how they feel about the England team.
These fans at a school in Tottenham, in London, where many of England's stars play in the Premier League. And they're a pretty proud bunch!
And these guys in Leeds wanted to send a message to all the England players.
They wanted to let them know that the whole of the country's football fans have been behind them!
So we want YOU to tell us what you've thought of this World Cup 2018.
Tell us what you think about England but also who else has stood out? Have you found any new stars? And what was your favourite goal or save?
Leave us a comment below or send in your messages to newsroundcomments@bbc.co.uk