We all know Sir David Attenborough, the legendary naturalist and TV presenter who brought shows like Blue Planet to our screens.
But did you know that there's another Sir David Attenborough - and this one's a boat?!
The RRS Sir David Attenborough is a brand new polar research ship that launched on Saturday 14 July.
It's been designed by the British Antarctic Survey, a group of scientists who specialise in polar exploration.
The ship became well known after the public voted to name it 'Boaty McBoatface'.
In the end, it was decided that naming the ship Sir David Attenborough would be a better option, in recognition of his work explaining the natural world.
The ship will carry a submarine called 'Boaty McBoatface' instead.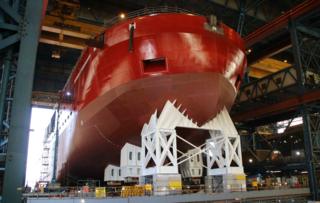 British Antarctic Survey
Costing £200 million, building the ship was the largest amount of money spent on polar science research in three decades.
It will carry 60 scientists and will be the first polar research ship to include a helipad - big enough to fit two helicopters on it.
It also has a library, a sauna and a gym on board. RRS Sir David Attenborough will replace two older ships and will be used for scientific research missions as well as journeys to re-supply the scientific bases in the Antarctic.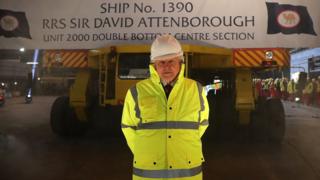 Getty Images
The real Sir David Attenborough pressed the button that launches his namesake ship into the River Mersey.
The ship will be taken for trials to make sure it's seaworthy and that the scientific equipment is working before it sets off for its first mission in 2019.