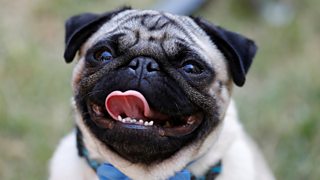 What's the problem with flat-faced dogs?
If you ever go out to buy a birthday card, it's hard not to come across one with an adoring picture of a pug on the front.
They are one of the most popular breeds of dog in the UK, loved by millions.
But many people may not realise that these flat-faced dogs have actually been bred especially to look that way - and this can sometimes lead to health problems.
We went to speak to a vet to find out more about what problems flat-faced dogs can face, and what you can do to make sure these dogs live as happy and healthy lives as possible.