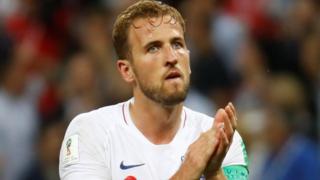 Reuters
Although England haven't made it to the final of the World Cup, their fans are still right behind them.
They lost out to Croatia in the semi-final but made it much further in the tournament than most people thought they would.
England Manager Gareth Southgate has said he's "remarkably proud" of the squad.
And there have been messages of support from some other famous faces too.
It's not every day you get the royal seal of approval but it looks like the England team have it.
The Duke of Cambridge, who is president of the Football Association, said the squad had given "fans something to believe in".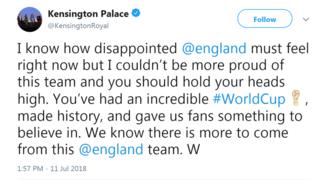 If there's a silver lining to England not getting to the final, it's that Gary Lineker won't be presenting Match of the Day in a mankini!
He'd made the promise earlier in the tournament.
He said he was "utterly choked" by the result and that Southgate's side did their country proud.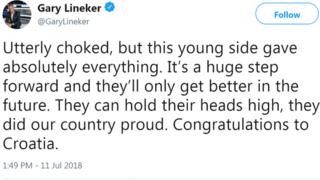 He might be more familiar with a racing track than a football pitch, but Lewis Hamilton has shown his love for the England squad saying he feels "inspired" by them.
He's also convinced that "it will come home one day"!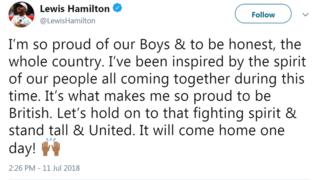 The Prime Minister has also praised the squad.
Theresa May has described their time in the World Cup as a "great journey that's made the country proud".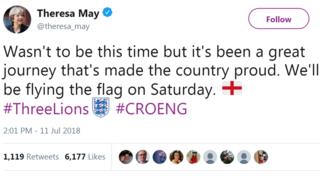 We also want to know what you think of England's performance in the World Cup. Click here to leave a comment.