On Monday, Prince Louis - the third child of the Duke and Duchess of Cambridge - was christened in a private ceremony.
The 11-week old prince was christened by the Archbishop of Canterbury, Justin Welby, in the Royal Chapel at St James's Palace in London.
Prince Louis was sleeping as he arrived at the ceremony, held by his mother.
His siblings, Prince George and Princess Charlotte, walked slightly in front, holding their father's hands.
It is the first time the Duke and Duchess of Cambridge and their three children have been seen together as a family of five.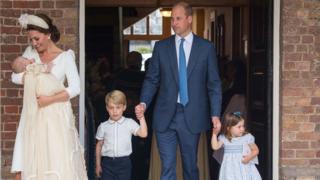 PA
However, Prince Louis's great grandparents - Queen Elizabeth II and the Duke of Edinburgh - were not be able to attend the ceremony.
This is because they already have a busy week ahead of them, including a celebration of the Royal Air Force's centenary and President Donald Trump's visit.
Louis's grandparents - the Prince of Wales and the Duchess of Cornwall - were also at the ceremony.
His uncle, Prince Harry, and new aunt, Meghan Markle - the Duchess of Sussex - were there too with Pippa Middleton, the Duchess of Cambridge's sister.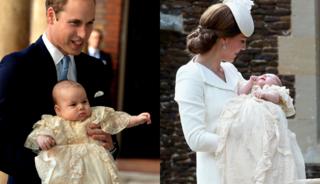 Getty Images
Prince Louis wore the same christening robe that his elder brother and sister wore to their christenings.
It is designed to look like the robe Queen Victoria's eldest daughter wore in 1841!
Prince Louis was christened using water from the River Jordan - which is considered by Christians to be holy as it was the river where Jesus was baptized.
Prince Louis is the third child of the Duke and Duchess of Cambridge, and fifth in line to the throne.