US President Donald Trump is in the UK to meet with the prime minister and the Queen.
This visit has been expected for a long time but it will be very short and very busy!
The plan is to spend a lot of time talking about the UK and USA's relationship, and their military ties.
However, lots of people are very unhappy that Trump is visiting. Protests are expected in London and Scotland.
What would you say to Donald Trump on his visit to the UK? Let us know in the comments section below.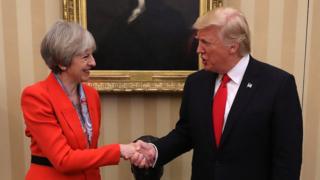 Getty Images
Why is President Trump visiting?
The UK and the USA historically have a close relationship - new leaders are expected to meet with one another.
People have been expecting a visit since Mr Trump was elected in 2016.
Prime Minister Theresa May has already made an official visit to the United States.
While Mr Trump's visit to the UK will be short, Mrs May will want to speak to him about lots of different issues.
It is thought that much of the trip will be spent talking about the military and defence.
This visit is not going to be an official state visit - as it will not be hosted by the Queen.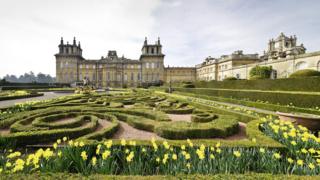 Getty Images
What will President Trump do while he's here?
A lot has been planned for Mr Trump's two-day visit.
On Thursday he flew from a meeting in Brussels to meet with Prime Minister May at Blenheim Palace, in Oxfordshire.
This is the place where Second World War Prime Minister Winston Churchill was born.
There was a big ceremony with music performed by the Scots, Irish and Welsh Guards - they will play famous US songs such as 'Amazing Grace' and the 'Liberty Fanfare'.
Mr Trump will meet with lots of officials from different kinds of businesses.
The President and his wife then travelled to central London to stay at the American ambassador's house that night.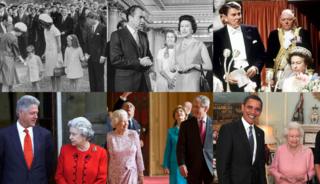 Getty Images
On Friday, the President and the Prime Minister watched a UK-US military training demonstration before going to speak at Mrs May's country home.
At news conference on Friday afternoon, President Trump talked about how his visit had helped the "special relationship" between the US and the UK to grow.
He also took the opportunity to call a video released by The Sun newspaper which showed him criticising Theresa May "fake news".
Mr Trump and First Lady Melania then travelled to Windsor Castle to meet Queen Elizabeth.
Once the official business is over, the President and the First Lady will then spend the weekend in Scotland.
Mr Trump's mother was born in Scotland and Mr Trump owns a number of golf courses there.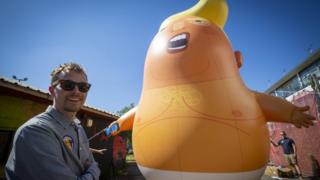 Getty Images
Why are people upset that President Trump is visiting?
Lots of people in the UK disagree with Mr Trump's policy on US immigration and the separation of migrant children from their families at shelters in the US.
More than one million people signed a petition last year against a visit from Mr Trump.
Thousands of people are expected to join protests against his visit in London and in Scotland.
Last week, London's Mayor Sadiq Khan gave permission for a large inflated balloon showing Donald Trump as a baby in a nappy to float above Parliament Square Gardens for two hours.
Police officers from different areas of the UK have been sent to London to help the Metropolitan Police control the crowds and keep people safe.
Despite the protests happening in London, Mr Trump will not spend much time in the capital city.