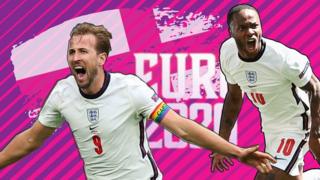 A goal from Raheem Sterling and captain Harry Kane
DISCLAIMER: We are sorry* if this article means the song gets stuck in your head.
*We are not sorry at all. It's stuck in ours.
IT'S COMING HOME! You may have heard this being sung and chanted a LOT since Euro 2020 began.
That's because the words are from a famous song called Three Lions which - you guessed it - was written as an English football anthem.
It was first penned for the Euro '96 competition by two comedians, Frank Skinner and David Baddiel (who you might know as the author of The Parent Agency and The Person Controller), and a band called the Lightning Seeds.
Now, as England head into the quarter-finals of the Euros, we take a deeper look into this famous song.
But what does the original song actually mean? Why do football fans sing it non-stop and what's actually coming home anyway?!
Read on to find out more about what the lyrics to the original iconic anthem are all about.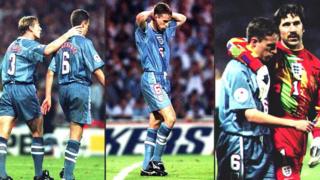 PA
Spoken: I think it's bad news for the English game - Scottish football commentator Alan Hansen wasn't feeling hugely positive about English football when he said this. We're not sure exactly when it was, but with the terrible state of English football at the start of the 1990s, it could have been on NUMEROUS occasions and seems a suitable sentiment to kick off the song.
Spoken: We're not creative enough and we're not positive enough
It's coming home, it's coming home, it's coming - You hear these words A LOT throughout the song! This actually originally referred to the fact that when the song came out, England was hosting its first major tournament since the 1966 World Cup, but now it is a reference of hope to England winning and bringing home the trophy. Not only that, but - according to Fifa - football as we know it today was actually invented in England in 1863, so the feeling is it's coming back to where it was born.
Football's coming home (Spoken: We'll go on getting bad results, bad result, bad results)
It's coming home, it's coming home, it's coming - In 1998, the lyrics were rewritten as the song was adopted as England's official song for the World Cup. Here, fans would sing 'we still believe' as they added a couple of lines to reflect the failed 1996 tournament and the fact they were still hopeful!
Football's coming home...and so on!
Everyone seems to know the score, they've seen it all before- Three Lions is really a song about how disappointing it can be to support English football, but how fans are still hopeful. As David Baddiel told BBC Radio 5 live, 'they've seen it all before' refers to the fact that England had lost so many times when the song was written and they wanted to write it "about how we've lost so often - and yet it's a song we want to sing".
They just know, they're so sure
That England's gonna throw it away, gonna blow it away - David says the song "actually reflects what it's like to be an England fan" - that it is a regular feeling that England don't do well and being a supporter of them often comes with feelings of failure!
But I know they can play, 'cause I remember - get ready for *that* chorus...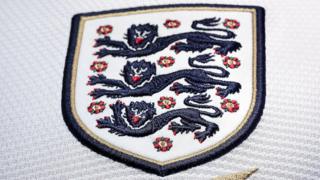 Nike
Three lions on a shirt - This is a reference to the logo of the England football team which features, unsurprisingly, three lions.
Jules Rimet still gleaming - Jules Rimet was the longest-serving president of Fifa, who held his post for 33 years and who initiated the World Cup competition back in 1929. The original World Cup trophy was named after him, and this is the trophy England won in 1966 - the country's only World Cup win.
Thirty years of hurt- At the time the song was made, this was how long it had been since England fans had enjoyed success in 1966 World Cup. This lyric is often updated to the amount of years it has now been - which, for the record, is now 55 years. We wonder if Gareth Southgate's team can put an end to the 55-year streak...
Never stopped me dreaming - Even though the song is all about how disappointing the England football team can be for fans, it is ultimately a song of hope and dreaming of success, so this is a fitting line for the end of the chorus.
So many jokes, so many sneers - England and their fans used to be teased by other countries for not being good and for still believing the team would actually win.
But all those 'oh so nears' wear you down, through the years - Until the penalty shoot-out against Colombia in the men's World Cup last year, the team had lost all three of their World Cup penalty shoot-outs in 1990, 1998 and 2006, as well as three in the Euros in 1996, 2004 and 2012, so to say England had come so near is incredibly relevant!
But I still see that tackle by Moore and when Lineker scored - This line and the next one praises three iconic England footballers from over the years - Bobby Moore (captain of the 1966 World Cup winning team), Bobby Charlton and Nobby Stiles (who played in that side) and Gary Lineker (who was an England legend before turning his hand to presenting football programmes).
Bobby belting the ball, and Nobby dancing
Followed by the chorus...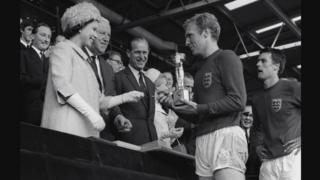 PA
Spoken: England have done it, in the last minute of extra time! - Some positive commentary unlike the opening to the song! This section remembers the moment David Platt scored in the final moments of the 1990 World Cup round of 16 game against Belgium to seal a place in the quarter-final.
What a save, Gordon Banks!
Good old England, England that couldn't play football!
England have got it in the bag!
Sung: I know that was then, but it could be again
...followed by more - a lot more - of It's coming home, followed by the chorus.
So there you have it! Three Lions and why fans sing it!
What do you think of the song? Do you like it? Have you been singing it? Let us know in the comments below!