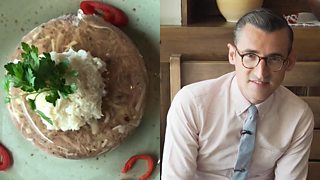 We tried Russian food at the World Cup and it's better than it looks
Do you know your borscht from your stroganina? Ever fancied a plate of unrendered pork fat for lunch?
No? Neither did Ben Shires either, to be honest.
Our man in Russia for the World Cup asked us what he should do with his day off, so we said: "Ben, we'd like you to get to know Russia a bit." So he headed straight for the nearest cafe and asked to try some of the local treats.
Now you'll know what to order when you next find yourself in Russia wondering what to have for lunch.