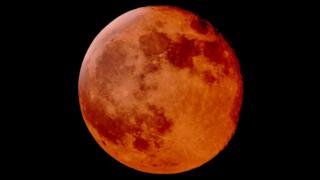 Getty Images
We were told it was going to be something pretty spectacular.
Friday night brought an amazing sight in the night sky - something called a blood moon that happens as part of a total lunar eclipse.
A lunar eclipse happens when the Sun, Earth and Moon are aligned. That means the Earth moves directly in between the Sun and Moon, blocking the sunlight. The eclipse then happens because the Moon enters the shadow created by Earth.
When it's a total eclipse the Moon can look a bright reddish orange colour. That's why it is often referred to as a blood moon.
Unlike a solar eclipse, you don't need special eye protection to see an eclipsed moon or Mars, so there's no need to go out and buy any fancy gear.
You don't even need a pair of binoculars - although they could help you get a better view.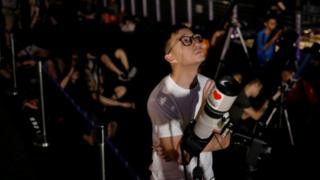 Reuters
At least part of the eclipse was visible from Europe, the Middle East, Africa, Australia, most of Asia and South America.
In the UK the blood moon could be seen between 21:00 and 22:15.
Lots of places were very cloudy, and so either blocked out the view of the moon entirely, or made it very hard to see.
But where the weather allowed, the Moon could be seen to turn red.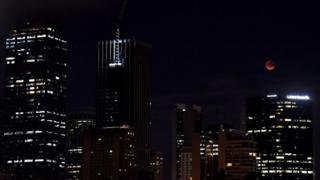 EPA
The Moon turns a deep, dark red because it's being lit up by light which has passed through the Earth's atmosphere and then bent back towards the Moon by something called refraction.
There were even more reasons to be excited about the looking up at the night sky this time around.
Five reasons this eclipse was extra special
The total lunar eclipse is due to last for 1 hr 43 mins, making it the longest total lunar eclipse of this century!

Experts said dust thrown into the atmosphere by recent volcanic eruptions in Hawaii and Guatemala was likely to paint the Moon an even deeper red.

As the blood Moon is happening, Mars appeared directly below the Moon at almost its maximum brightness. The red planet hasn't been this big and bright since 2003, when the distance between Mars and Earth closed to less than 56 million kilometres.

As if that wasn't enough, there was also a chance for keen space watchers to spot Jupiter in the south-west.

Finally, you might also have be able to see the International Space Station (ISS) sailing overhead a little later in the night.
Robin Scagell, vice-president of the Society for Popular Astronomy, summed it up: "A total lunar eclipse, Mars, Jupiter and the International Space Station. What more could you want?!"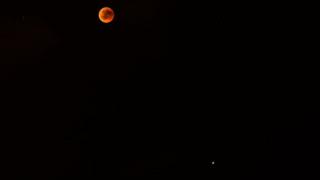 Graham Eva
What's so special about a blood Moon?
A blood Moon is really quite a sight and in the past people used to get very superstitious about what it meant. Some said that it meant that Mars - the God of War - was on his way.
Robin explains: "In early days, experiencing a total lunar eclipse would have felt like the end of the world. It's not surprising people were terrified by it."
It is still seen as a symbol of doom in some parts of the world today.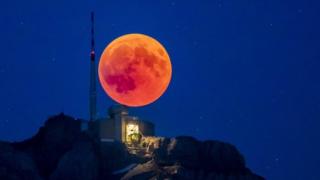 EPA
The "totality" period, where light from the Moon was totally obscured, lasted for one hour, 43 minutes.
The ISS could also be seen. It looked like a bright star and appeared just after 11pm, before fading from sight a few minutes later.
If you weren't able to see the blood moon, hopefully these photos of it from around the world will help give you a taste of what seeing it must have been like.
And if you did manage to catch a glimpse of the amazing sight - let us know in the comments below.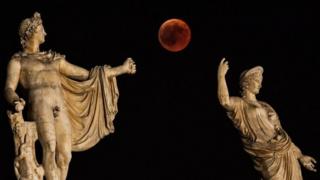 AFP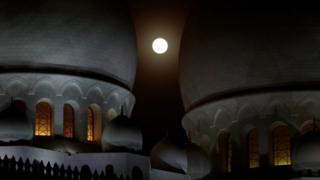 Reuters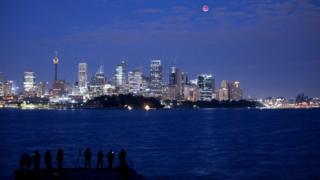 Getty Images