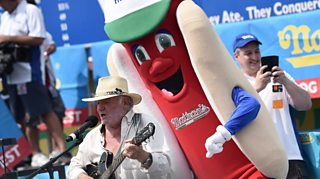 Hot dog eating record smashed at US contest
Joey 'Jaws' Chestnut from California, USA, has been crowned winner of a famous hot dog eating competition for the 11th year in a row.
He was competing in the annual Nathan's Famous International Hot Dog Eating Contest in New York.
Joey ate 74 hot dogs in 10 minutes which is a new world record. Yep... SEVENTY FOUR!
He really is a 'top dog'.