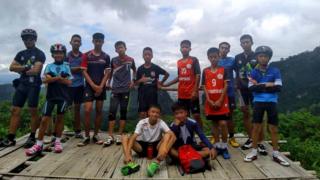 Facebook/ekatol
Rescue workers are working hard to make sure all twelve boys and their football coach get out safely after they became trapped in underground caves in Thailand, Southeast Asia, on 2 July 2018.
The group had been missing for nine days after they entered the caves in the north of the country.
They became trapped by rising waters caused by heavy rainfall.
Two British divers, who had flown to Thailand to help the rescue mission, found the boys on Monday night.
Professional rescue teams are now trying to rescue the group from the caves in the safest way possible.
The 12 boys - aged between 11 and 16 - and their coach are part of a football team called Moo Pa, which means Wild Boar.
It is believed they entered the cave on 23 June when it was dry and sudden heavy rains blocked the exit.
During rainy seasons in Thailand, the waters in the caves can rise very high.
Rushing water and mud have now trapped the boys inside.
An international team involving Thailand's Navy, the United States military and British divers have been on a mission to find the group.
Rescuers were concerned about how much oxygen and food the group was getting and whether they were too cold.
However, temperatures have been quite warm in the cave, which has helped the group. They have had access to water.
Two British divers, Rick Stanton and John Volanthen, came to Thailand last week.
After exploring the caves for several hours, they were able to find the group alive and well. The boys were very happy to see them.
The divers have promised to bring back food, and more people to help the boys, while rescuers come up with a plan to get the boys out.
What's being done to help?
A rescue operation is underway to get the group out of the underground cave and back to their parents.
It had been thought that the boys might have had to wait a few months before they could leave the cave.
But monsoon rains arrived, meaning the cave could become more flooded, so the operation had to start quickly.
Getting the group out is quite complicated because the caves are quite tricky to move through, and there is very little light to see.
The boys were taught to dive so they could get out of the cave entrance safely.
Another option that was originally considered as part of the rescue mission was for holes to be drilled in the cave to drain the water.
But this would have taken longer, as new roads needed to be built to bring drilling equipment to different areas.
In the last few days, the boys and their coach have been given lots of supplies and medical attention to try to make sure they are strong enough to escape safely