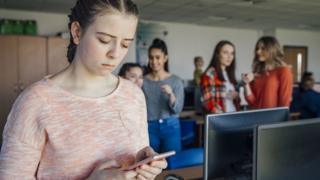 Getty Images
Social media may be causing more children to struggle with loneliness, a charity has said.
The latest figures from Childline show that the service delivered 4,636 counselling sessions for loneliness in 2017/18 - compared to 4,063 the year before.
Most were teenagers but the youngest person to call with the problem was just 10 years old.
Nearly 80% of sessions went to girls. Some said watching their friends socialise without them on social media made them feel increasingly lonely.
One teenage boy told Childline: "Recently I've been feeling really isolated and alone. I see all my friends having a good time on social media and it gets me down. I feel like no one cares enough to invite me.
"My mood is getting worse and now I'm just upset all the time and can't stop crying."
If you are worried about feeling lonely, there is lots of support out there for you to get help.
Speak to an adult you trust, like a parent, guardian or a teacher.
You can also contact Childline - a counselling charity for people aged 18 and under - on 0800 1111 for free at any time.