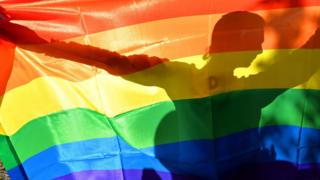 AFP/Getty Images
The results of the biggest ever survey of lesbian, gay, bisexual and transgender (LGBT) people in the UK have been revealed.
More than 108,000 people, who identify as LGBT, shared their experiences by answering questions about health, education and their personal safety.
The survey found that LGBT people are less likely to be satisfied with their lives than other people in the country.
It also found that only around half (56%) said they felt comfortable being LGBT in the UK.
Nearly 70% said they had avoided holding hands in public with a same-sex partner for fear of a negative reaction.
A quarter of people (26%) said that they had had mean things said to them in the past 12 months.
Prime Minister Theresa May said nobody "should ever to have to hide who they are or who they love", and said an action plan had been made to improve the lives of LGBT people.
Ruth Hunt, chief executive of the gay rights charity Stonewall, said she was pleased the government was listening to the LGBT community, but added there was "still a long way to go until we reach full equality".