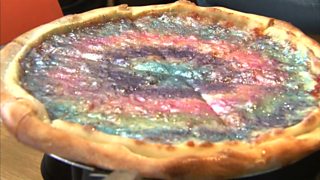 WARNING: This will make you want pizza
A restaurant in America has started serving a glittery rainbow pizza.
It is made of special edible glitter so don't try this at home with any old glitter.
The pizzeria owner said "I've noticed everyone from kids who are, like, 2 years old losing their minds over it to people that are in their 70s ordering these pizzas".
And if you like pizzas why not click here for our fun quiz - You wanna pizza this!