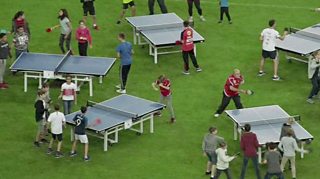 German kids set table tennis world records
Normally a football stadium is for... well, football.
But at one arena in Germany it's been all about table tennis.
Over 1200 children from schools across Dusseldorf got together to try and set a new world record.
They managed to have the largest number of people playing table tennis at the same time for ten minutes.
The kids also set a SECOND world record for more than 100 table tennis tables being played on at the same time.
Phew! We're glad we weren't on ball collecting duty!