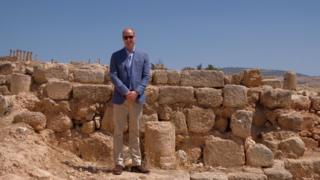 Kensington Palace
Prince William is making the first official royal visit to both Israel and the Palestinian territories.
It is part of a five-day tour of the Middle East.
The British Government has asked the Duke of Cambridge to make the trip.
It's being described as "non-political" allowing a spotlight to be put on "the people of the region: their cultures, their young people, their aspirations and their experiences."
The visit comes as Israel has celebrated 70 years since it was created.
There have been deep political and religious divides between Palestinians and Israelis for a number of years.
Prince William will meet both Israeli Prime Minister Benjamin Netanyahu and Palestinian Authority President Mahmoud Abbas.
He will also visit Yad Vashem Holocaust memorial and museum which is Israel's official memorial to the Jewish victims of the Holocaust where he will take part in a wreath laying ceremony.