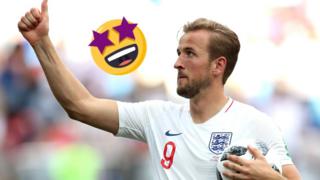 Getty Images
Wow - that was something pretty special that England fans won't forget!
Yes, England beat Panama 6-1 in the biggest ever World Cup win.
Harry Kane was the hero again, getting a hat-trick and other goals came from Jesse Lingard and John Stones.
So, how do you feel about the way the team has been playing so far? Could Gareth Southgate's squad go all the way and win the tournament?
Well done Team England! Keep going on to the final!
2Red, Doha College, Qatar
Good luck in the next game with Belgium and well done with this game, we all cheered when we watched the goals. We hope Gareth Southgate's arm is better.
Foreland Fields School, Kent
We have enjoyed watching you win against Panama. We think that you have done very well. Harry Kane has the most goals and it's great to see such a young team play brilliant football.
Chalfonts Community College, Buckinghamshire
Congratulations to the England Team. We hope you win the World Cup!
Good luck in your next matches.
Train hard and you will achieve what you want to achieve!
From Watford with love!
7S Form group, Westfield Academy, Hertfordshire
I don't think they will win the entire competition, as they have played relatively easy teams so far. We will see how good they are when they come against better teams like Belgium.
Robbie, 12, Portsmouth
We're watching and supporting England all the way from Bangkok Thailand, which is difficult with such a big time difference!
Our message for England is to keep doing their best and playing exciting football.
Year 5 Magpie Class, Bromsgrove International School, Thailand
We were so excited when England won 6-1!!!
WE WILL WIN!
Let's do this team!! Good luck England! Keep scoring those goals Harry Kane and John Stones.
Class 4B, Sprowston Junior School, Norfolk
We think that England are the best team playing in the World Cup this year. Go England! Try your best out there because we believe that YOU CAN WIN! 🏆
Well done Harry Kane for scoring amazing goals!
Good luck vs. Belgium on Thursday.
Diamond Class (Year 2), Kings' School, Dubai
This chat page is now closed. Thanks for your messages!