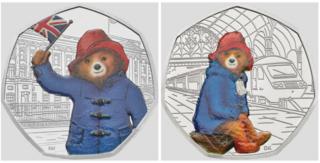 Royal Mint
We've already seen 50 pence pieces with Peter Rabbit and friends on them. Now Paddington Bear is getting his very special 50p coin too!
The Royal Mint, which makes coins for the UK, has released two special new commemorative coins to celebrate the 60th anniversary of his first adventure in A Bear Called Paddington.
The coins officially went on sale on Monday 18 June, but you'll need more than 50p if you want to get your hands on one.
They currently cost £10 each.
Because the designs are in colour, showing Paddington in his famous blue duffle coat and red hat of Paddington's, they look quite different to a normal 50p.
These two coins show Paddington outside Buckingham Palace and at Paddington Station - two of the most famous locations from his adventures.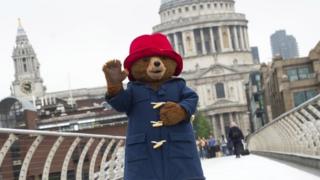 EPA
The character of Paddington, the friendly bear from Peru with a love for marmalade, was first created in 1958 by Michael Bond, who wrote the book series.
Anne Jessopp, who is in charge at the Royal Mint said: "It's wonderful to be able to celebrate a character from popular culture as well-loved as Paddington Bear, and the 60th anniversary of the books seemed an appropriate time. I'm sure Paddington would be very honoured to be the first Peruvian bear to appear on British coins".
Congratulations Paddington!
Next time you get a 50 pence piece in your change, maybe just have a check to see if Paddington's sneaked in by accident.