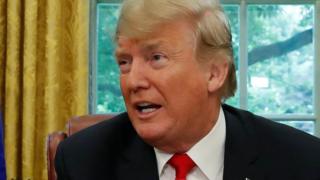 Reuters
American president Donald Trump has said he'll now keep families together in migrant detentions.
He has changed his policy which separated migrant children from their families which lots of people were unhappy with, including his wife Melania and daughter Ivanka.
Trump said he'd changed his mind after seeing pictures of children taken from parents while they are jailed for illegally crossing the border from Mexico into the USA.
"I did not like the sight of families being separated," Trump said, but added his team would continue its "zero tolerance policy" for dealing with anyone who crosses the border into the USA illegally.
It's not clear though what will happen to children who've already been separated from their families.