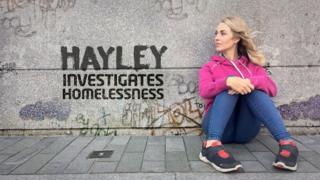 There are 320,000 people who are homeless in Britain today, with the numbers going up by more than 1,000 every month.
That's according to research by the charity Shelter for 2018, which says that the number of people without a permanent home has increased by 13,000 people, and that many of them are children and families.
The numbers show that for every 200 people living in Britain, one person is classed as homeless.
The worst affected region is London, with a total of 167,853 people classed as homeless, or roughly one in every 53 people.
Outside the capital, the cities of Brighton on the south coast, Birmingham in the West Midlands and Manchester in the north of England were also dealing with high numbers of people without proper shelter.
The government has said that it will stop people from sleeping rough on England's streets by 2027.
Earlier this year, the homelessness charity Centrepoint told Newsround that 329 people aged 18 and under had contacted the helpline that year saying they had nowhere to go.
The number of calls they are getting from people aged 16 to 24 had also risen by 20%.
In June 2018 the charity had the highest number of calls yet.
If you are under the age of 18 and worried about being homeless, your local council is responsible for finding you somewhere to live.
However, not all children know this and sometimes kids who can't stay at home are ending up on the street.
Homelessness is when someone has nowhere to live or no permanent place to call home.
Being homeless may mean someone is forced to live on the street, but this is not always the case.
It may be that they have no permanent or safe place to stay.
Homelessness can be particularly hard for young people who need someone to help support them.
This is the story of Natasha.
We've changed her name and animated her story to protect her identity.
When Natasha was 14 she had nowhere to call home.
I met Natasha in her hostel where she now has her own bedroom, a place to make her own food and people around to help and look after her.
Who is affected by homelessness?
This year nearly 58,000 families were accepted as homeless by their local councils.
That's the highest it has been in 10 years.
According to Centrepoint's figures, between 2016 and 2017, at least 86,000 young people in the UK have asked for help from their local council because they were worried about being homeless.
A young person is anyone aged between 16 and 24.
Newsround asked the Ministry of Housing, Communities and Local Government - a section of the government that deals with housing and homelessness - what they are doing about this.
They said, "Everyone deserves a safe and decent place to live and it is unacceptable that children are living without a permanent home."
"We are spending more than £1.2 billion to ensure all those who are homeless, including children, get the support they need."
They also said they want to invest £2 billion in council houses and allowing councils to borrow money to build more homes.
But many homeless charities feel that the government is not doing enough to help.
How do people become homeless?
This is a question that there is no easy answer to.
Every homeless person's story is unique to them; there might be any number of reasons why they are homeless.
It is important to remember that homelessness will rarely ever be a choice.
What is it like to be homeless?
Joseph is 12-years-old and after spotting some homeless people in his home town of Edinburgh looking cold and uncomfortable, he decided to do something about it.
He's collected over 3,000 pairs of socks and shared them out with people who live on the street.
Newsround sent Joseph to meet Joe, a man who used to be homeless, to ask him about what it was like.
When you pass someone sleeping rough on the street, it can be hard to know what you can do to do to help.
Fortunately, there are lots and lots of things you can do to help people who are homeless.
Here are a few ideas to get you started:
Sleep out:

Arrange a sponsored sleep out with your school for charity - you can raise money and awareness of the issue.

Bake sale:

Bake some cakes and sell them - you can donate the money to a homeless charity.

Collect clothes and food:

You can donate clothes, toiletries and food to your local homeless shelter.

Speak out:

Talking about the problem helps raise awareness.
If you are worried about homelessness, you deserve to get some support.
Whether you just want to talk about your worries or you need to find somewhere to live, there are lots of things you can do to get help.
Speak to an adult you trust, like a teacher, a police officer or the parent of a friend.
There are also charities that you can contact who can give you advice or help you find a temporary place to stay.
Centrepoint
A charity for young people aged 16 - 25 who are at risk of homelessness

They can give you advice and may help you find accommodation

You can contact them for free on

0808 800 0661

(Monday to Friday, 9am to 5pm)
Shelter
A charity that provides support with homelessness at any age

They can give you advice, help you find accommodation and provide legal support

You can contact them for free on

0808 800 4444

(Monday to Friday, 8am to 8pm and Saturday to Sunday, 9am to 5pm)
Childline
A counselling charity for people aged 18 and under

They can give you advice about what to do if you feel unsafe at home and help you find support

You can contact them for free on

0800 1111

at any time