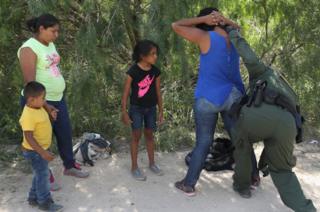 Getty Images
There's a big argument going on in America about the way some migrant children are being split up from their families.
It's part of a crackdown by Donald Trump's government on people who are trying to get into America from Mexico illegally.
Over a recent six-week period, nearly 2,000 children have been separated from their families over when their parents are held by border guards.
In many cases, the families have been reunited but there are reports of people being kept apart for weeks and even months.
Why is this happening?
Donald Trump has promised to do more to stop illegal migrants crossing into the US. Lots of people who voted for him really want that to happen.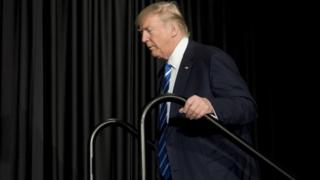 SAUL LOEB
What's happening now is a result of what happens when adults are caught trying to cross illegally.
If these adults have brought children with them, when they are arrested, those kids have to be taken into the care of the authorities.
They are transferred to government shelters or foster care while their situation is sorted out, but some shelters and foster homes say they are running out of space.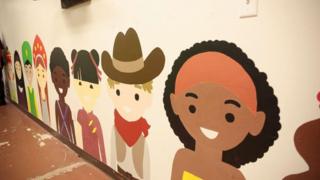 US Government
Many people have been shocked after the government also announced that it has selected a site in Texas to house the migrant children in tents.
What have people been saying about it?
The United Nations has called on the US to immediately halt the separations.
The US Attorney General - who is the American government's top lawyer - says that bringing children with them shouldn't stop illegal migrants being punished.
In a very rare statement, the First Lady Melania Trump has also commented on this.
She said she "hates to see children separated from their families and hopes both sides .... can finally come together. We need to be a country that follows all laws, but also a country that governs with heart."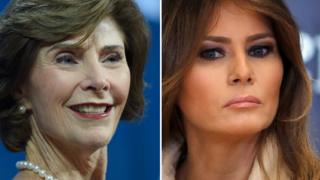 Reuters/Getty Images
Former First Lady Barbara Bush also criticised what's going on in a newspaper article.
She wrote "This zero-tolerance policy is cruel... And it breaks my heart. Our government should not be in the business of warehousing children in converted box stores or making plans to place them in tent cities in the desert."
In the UK, Prime Minister Theresa May said that the way children are being kept was "deeply disturbing" and that their treatment was wrong.
What will happen next?
The truth is we don't know what will happen next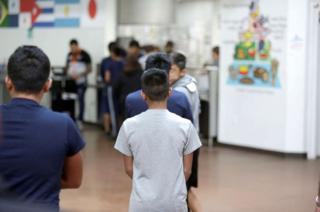 US Government
Many politicians in Donald Trump's party support his government's actions but other politicians both in his party and in other parties, are preparing a new law which would end the separation of children and parents at the border.
Under the new plan, families would be held together.
At the moment Donald Trump says he won't support those plans, although on social media he has called for all politicians to work together to find a solution.