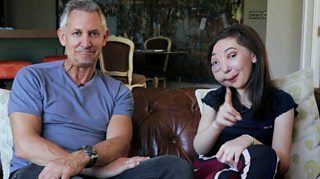 Hey, Gary! We haven't forgotten your World Cup promise
You might remember that Gary Lineker famously presented Match of the Day in his pants when Leicester won the Premier League. So, how would he top it if England won the World Cup?
Well, in an episode of Nikki Lilly Meets ahead of the World Cup in Russia, he told her that he would present the programme in... a MANKINI!
He said: "If they did win the World Cup, I wouldn't mind. It would be amazing!"
He went on to say: "I think I'm safe..."
Well Gary, are you still feeling completely safe? Are you really? Because we're not letting you forget this...
To see more from Nikki Lilly's chat with Gary, you can watch the whole programme here on the CBBC website or on BBC iPlayer.