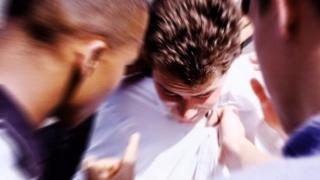 Bullying is something that affects many people and it can happen anywhere: at school, online or even among friends.
An anti-bullying charity has been campaigning to change the definition of the word.
Old definition: Bully n. a person who uses strength or influence to harm or intimidate those who are weaker.
New definition: Bully n. a person who habitually seeks to harm or intimidate those whom they perceive as vulnerable.
The charity believed the old definition might make people think bullies were 'strong' and people who were bullied were 'weak'. The new definition makes it clear that being a bully does not make you strong.
A charity called The Diana Award asked 589 young people aged 13 to 17 years old if they thought the old definition of bullying should change - 72% believed it should.
(Did you know: The Diana Award was set up in memory of Princess Diana, Prince William and Harry's mum)
The charity has been encouraging major dictionaries such as the Oxford dictionary, the Cambridge Dictionary and search-engines like Google to change their definition to something that better explains what bullying is.
This means when people go to find out what it means to be a bully, they'll hopefully learn it isn't a good thing to be.
Their campaign has been supported by The Vamps' James McVey, presenter Holly Willoughby and Stranger Things star Millie Bobby Brown.
How do you know if you or someone else is being bullied?
If you are worried that you or anyone that you know is being bullied, speak to an adult that you trust you about it. That might be a teacher or someone in your family.
You can find more help and advice on the new Own It app.
Or you can call ChildLine for free on 0800 1111.